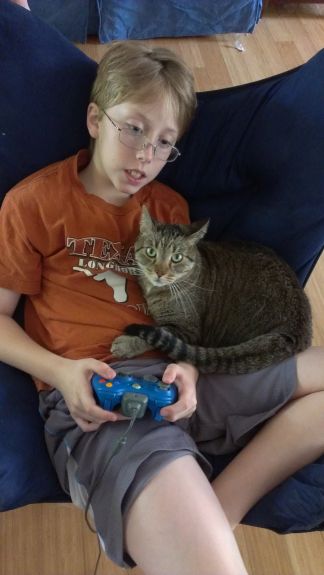 So, Boychild, whom Ian Fluffypaws adores with all his kitty being, saved all his money, did all his chores, waited patiently, and finally acquired the long awaited Titanfall. I think I mentioned a in my first post that one of Ian's favorite activities is to play video games. We aren't kidding here. This kitty loves to sit in Boychild's lap and watch the flickering screen. Oddly, Ian does not enjoy any other television, just video games, and just video games with his boy. Girlchild can play one of her games (she is a huge Frogger fanatic), and Ian is nowhere to be found, but Boychild breaks out one of his games, and Ian is right there, in his lap, ready to play! Next post I will have to introduce the rest of the furry family. We are blessed with 4 rescue kitties (1 Tripaw, 1 deaf, 1 feral, 1 "normal"), 2 rescue Great Pyrenees, and 2 frogs. Yes, I will even tell you about our frogs, they are now five years old (who knew frogs lived so long!???)
Ahhhhh….Here we see Ian Fluffypaws stretched out to his full magnificent 14 pound glory! I think he is trying to consume Boychild's soul here and become a real boy….but I could be wrong. It could just be a little love kiss.
We were initially worried about Ian's size. He is heavy for a Tripaw. As all Tripaw parents know, keeping their weight in check is critical for the health of their remaining joints. When we received Ian in that Parking Lot, I immediately noted that he was a very heavy cat. Our first order of business was to take him to the vet and get a thorough examination. We were thrilled to learn that he was perfectly sized. He is a very big boned and "thick" cat. Heavily muscled and strong, he doesn't maneuver with grace through this world…he plows through it.
We work very hard to maintain his diet and exercise to ensure his joints remain healthy for as long as they can!
(not sure why the photo is like that….and I am not tech savvy enough to fix it, but if you click on the picture, I think it will pull it up so it won't look on squished and you can see how LONG he is….weird….sorry! *hugs*)
Until next time!
Isyllt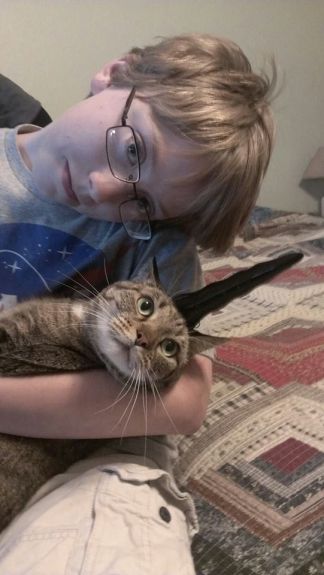 This is Ian Fluffypaws. Isn't he just the most precious unikitty ever? He adores my son. We are sure it is a Stockholm Syndrome type situation.
Ian came to live with us about 4 years ago, and he is our 3rd tripaw. We are unsure of his complete history, as he was sent to live with us because we had experience with tripaws. The story we are given is that he was a 5 year old barn cat, when there was a "farm accident" with a tractor, or mower. He has a wonderful personality and they did not want to see him put to sleep, but they also knew that a farm cat without a back leg was not going to survive. So, friends of theirs knew friends of ours, and so he was handed off to us in a parking lot 4 years ago.
He has an amazing bond with our 13 year old son. Sleeps with him, studies with him, and plays video games with him. They are unbeatable on Halo. I will get a photo downloaded soon of him stretched out to his full 14 pound glory.
Before sweet Ian was Jhonie, our Greyhound…sweetest dog ever. I will save her for her own post. And before Jhonie was C.C. Another tripaw kitty that I hand raised and bottle fed from the day of her birth. I held that baby in my arms and heart until we lost her to a heart defect at age 15.
Until another post:
Ian's doting mom:
Isyllt
Read this for important information!
Welcome to Tripawds. Please read on for important tips. This is your first post. Edit or delete it, then start blogging.
Be sure to check out your default sidebars for helpful tips to make the most out of your new Tripawds Blog!
Don't miss our helpful WordPress tutorial videos if you need help getting started with your new Tripawds blog.
Do not reply to this post!
Please publish a new post (or edit this one) to share your story. The Tripawds community is only notified of new blog posts in the Recent Posts widgets found throughout the News blog and discussion forum pages. Members will not be notified of any comments made on this default first post. You can also choose to edit or delete your sample page.

NOTE: If you edit this post, be sure to modify the "Published" date and change the post author to your username from the Author drop-down menu on the edit page. That way you will be notified of any comments you receive so you can approve them.
See the Help videos or post in the Tech Support forum with any questions.
Please publish a new blog post or your site may be deleted!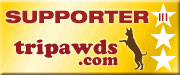 Please be sure to publish at least one blog post to let us know you that you may use your blog. NOTE: Failure to do so may result in your site being deleted.
If you upload photos to your Media Library, but fail to publish a post, we'll never know they are there and they may be gone forever!
Another way to ensure your site does not get deleted, is to upgrade it with a Tripawds Supporter subscription.
By default your site will be indexed so Tripawds members will be notified of your update in the Recent Posts lists throughout this community. If you change your Privacy settings to discourage search engines, your posts will not be indexed! If for some reason you do not want your posts indexed, consider starting  forum topic to share your story and reply there with links whenever you publish new blog posts.
To limit the amount of spam you receive, any first comment a reader makes on your blog will require moderation. Be sure to "Spam" any inappropriate comments, and approve those from your readers so their future comments appear immediately. You can change your comment options from the Settings -> Discussion tab in your dashboard.
Tripawds Blogs shall NOT be used for fundraising purposes.
Direct appeals for money to help cover care expenses will be deleted without notice. Everypawdy in the Tripawds community faces their own share of high expenses related to surgery, recovery and care. Veterinary financial aid resources can be found in the Tripawds News blog. Please see the Tripawds Fundraising Appeals Policy for more information. Thank you for your understanding.
Thank you for sharing your story, and happy blogging!